Key Holding & Instant Alarm Response
A Reliable & Rapid Response to Potential Threats
Syndicate Alpha Ltd offers top-notch key holding and alarm response services to ensure 24/7 protection and give a rapid response to alarm callouts. There is nothing more important than a reliable security if you want your business to run smoothly. Your safety and security are paramount to our highly trained and dedicated keyguards who strive to protect your property and mitigate security vulnerabilities. Our key holding and alarm response services are managed in accordance with BS7984 and the licensed officers deliver 24/7 protection against criminal damage or theft. The key holding and alarm response service allows you to rest assured that your facilities are guarded by a professional security company.
Get our cost-effective key holding and alarm response services to reduce all kinds of security risks and provide a safe environment to your staff.
In a challenging business environment already facing the COVID-19 pandemic, monitoring the security of your company 24/7 is very difficult. You need to adopt reliable and up-to-date key holding and alarm response services to protect your business out of hours and keep your employees safe.
The following facts and figures describe how fake alarms can be disastrous for your business:
Traditional Alarm Systems cause nearly £1 billion to the UK business due to false activation.
Over 98% of alarms calls were declared false in the US by the ICAP in 2016.
False alarms annoy key-guards and negatively affect their performance.
Whether it is a False Alarm or Genuine – WE RESPOND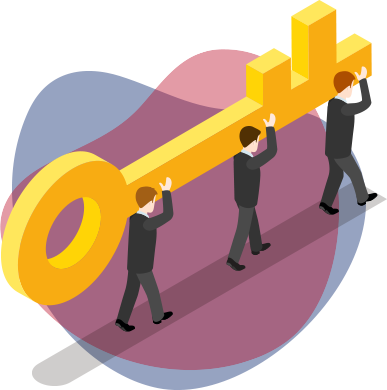 Keyholding, the Ultimate Solution to False Alarm Activations.
Unlike traditional alarm systems with less credibility, keyholding and instant alarm response services strengthen your security by deterring theft, managing access control, and reducing security risks. With a highly trained key-guard at your premises, you need not respond to false alarm activations since your security partner is responsible for protecting your premises round-the-clock.
Professional keyholding & instant alarm response services help you:
Secure your premises and employees from dangerous environments.
Effectively manage security emergencies.
Minimize the chances of a security breach.
Protect your keys according to industry keyholding standards.
When it comes to cost-efficiency, reliability, and trust, Syndicate Alpha is the only company that offers comprehensive keyholding and instant alarm response services catered to the security needs of diverse sectors.
The following qualities make us one of the best keyholding companies in the UK.
Rapid Response to Alarm Callouts.
Get a Free Risk Assessment.
Get our free on-site security risk assessment for free to:
Highlight security vulnerabilities.
Identify key areas of a security breach.
Get recommendations to secure your premises.
Frequently Asked Questions
Why do I need to hire key holding services?
A property key holder needs to reach the premises and resolve the matters whenever an alarm is triggered. Failure to do this may result in the withdrawal of the police from that premises and declare your alarm a nuisance.
What do your keyholding and instant alarm response services cover?
Our security officers keep your property's keys and deal with alarm issues at your premises. Additional steps are taken in the event of a break-in for extra protection.
What happens if my alarm is declared a nuisance?
In case your alarm is considered a nuisance at law, you might get a Noise Abatement Notice from the council. You can also be prosecuted if you failed to comply with the Abatement Notice or have to pay a fine if found guilty.
How do you ensure the keys are secured?
We tag your keys alpha-numerically and store them in a well-protected alarmed building.
How can I get a quotation?
You can request a free quotation by sending us an email at info@syndicatealpha.co.uk or by calling us at 02036 429510.
Are your security officers licensed?
Yes, we provide SIA-licensed security officers vetted to BS7858 to carry out security duties under key holding standards.
What benefits can I get by hiring keyguards from Syndicate Alpha Ltd?
Syndicate Alpha Ltd is a key holder security and alarm response service provider in the UK, we provide highly trained and licensed keyguards who carry out the necessary security risk assessments, secure your keys, timely respond to alarm activations, and are available 24/7 to protect your property from all kinds of security threats.
Can I get my keys back?
Yes, you can get your keys back anytime by sending us a written request.
Is there a minimum contract duration?
We offer both long-term and short-term contracts. Please contact our security consultant for any additional information about our key holding and alarm response services.
How much time do you require to set up the key holding service?
The time required to set up or move the key holding service varies depending on your property arrangements.